STRICTLY FOR OFFLINE HEALTH MAGAZINE PROJECT

Date: Open
Dear Colleague(s)
RE: INVITATION TO INTERACT WITH OUR BROAD READERSHIP OF
SAFE LIFE HEALTH NEWS MAGAZINE
Please allow me introduce to you the above mentioned magazine designed to run good health articles in Uganda and beyond. The magazine also runs HIV/AIDS Anthem gazetted in the Uganda gazette Ref: XCVIII, No. 15 of March 18, 2005.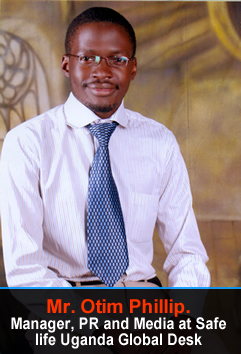 The publication was launched in Kampala, Uganda on the 1st of April 2010 and it has so far 50,000 copies, as by August 17, 2010, in circulation creating tremendous impact on communities. It is unique in design and mode of distribution which is still free of charge to the reader(s).
Our management has the pleasure of inviting you to participate since health issues, especially those of HIV/AIDS, are cross-cutting and for better results collective efforts are very necessary.
How you may participate;
Display of your logo in the magazine to symbolise that you encourage / support HIV/AIDS programmes at the workplace. Your logo is positioned for greater visibility at affordable / reasonable cost. This particular strategy highlights your contribution in the fight against the scourge.
Head of your Institution or the Human Resource Manager interacts with our health media experts and an article is derived out of that interaction for public dissemination locally and globally. This strategy boosts Organisational goals to effectively and efficiently share timely and necessary information in the war against HIV/AIDS as the truth is, every Organisation is unique in its own making.
Procure space to advertise your programmes not necessarily health related. In this way, you still contribute to the sustainability of the life saving, artistic, journalistic and poetic publication.
Please find herein attached our rates which are flexible and negotiable depending on the number of times you are willing to interact with the readership. Please join us for a sustainable impact on HIV/AIDS and other killer diseases. It is no doubt that your contribution and the decision you make today honouring our invitation shall remain recorded in the history of this Country and beyond.
Thank You.
Intellectual property Manager
Health News Division
Safe Life Uganda (SLU)
please Click here to download this document